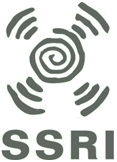 What is SSRI?
Spiral Subwave Records International, or SSRI, is an independent record label founded by Ottmar Liebert, which specializes in instrumental music. SSRI CDs are available in conventional stores or from online retailers via Burnside Distribution and from SSRI's own online store. The music is also available from many music download sites, such as iTunes, emusic, Rhapsody and others. In addition to this SSRI has developed their own download site, called the ListeningLounge.
Why Buy from the ListeningLounge?
Here is a list of LL features:
Full-length previews: you can listen to the entire track before making a selection
You get a choice of 3 different LAME encoded mp3 files: 128, 192, and 320 kbps. Some albums are also available in high-definition 24-bit FLAC format (better than CD.)
The music you buy remains accessible to you via the ListeningLounge's My Music Library - in case your harddrive fails or you want to download a different quality file. You may download each song up to five times.
SSRI does not use copy protection (DRM), which means the music plays in any device and you can burn backups on CD.
Some of the music offered is only available from the ListeningLounge, and you won't find it in stores or on the radio.
Cover art in the PDF format are available for most albums. Download and print!
In addition to the regular albums we offer Works in Progress, Live recordings, as well as Loops and Parts for musicians (e.g. just the rhythm guitar or bass or percussion for a song)
All artists and music on SSRI are hand-picked by Ottmar Liebert.
| | |
| --- | --- |
| | |