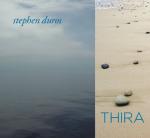 Thira MP3 Files
>> Printable Artwork / Liner Notes
On "Thira" you can hear the Mediterranean vibe behind the techno/gitano orchestration. "Romanticism and the call of history, lost civilizations, dream chambers and the effigies of Kings," is how Culture Court describes the sonic impressionism of this superb album. "And while the synth textures & backgrounds make this CD nuevo, it's the call and response between the flamenco guitar & the oud that set the mindscapes way back in ancient history."



Get the entire album in MP3 format
(128/192/320 Kbps quality)

This version of the album includes MP3 versions of the songs in various bitrates (128/192/320) and also 24-bit High Definition FLAC files. HD/FLAC files are only available when purchasing the entire album like this.

Note: Not all MP3 playing devices or software can play FLAC formatted music, but this offers a quality that far surpasses that of MP3 and even 16-bit 44Khz CD.


Page generated in 0.01 seconds.