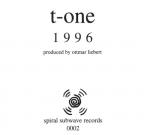 t-one 1996 MP3 Files

From the secret vaults of Spiral Subwave emerges an ambient gem: t-one. What does it mean? A code for some Pythagorean touch-tone? Or a simple designation for a series of trance recordings... listen, allow the enigma to draw you in... falling water, people in a railway station, traffic on a wet road, the murmuring of an eastern guru... guitar and synth loops... an unanswered phone... a motor scooter... the subtle electronic swells underpin the random noise of contemporary urban life. - from a review by culturecourt.com



Get the entire album in MP3 format
(128/192/320 Kbps quality)

This version of the album includes MP3 versions of the songs in various bitrates (128/192/320) and also 24-bit High Definition FLAC files. HD/FLAC files are only available when purchasing the entire album like this.

Note: Not all MP3 playing devices or software can play FLAC formatted music, but this offers a quality that far surpasses that of MP3 and even 16-bit 44Khz CD.


Page generated in 0.02 seconds.