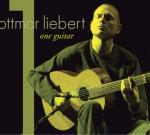 One Guitar MP3 Files
>> Printable Artwork / Liner Notes
Nominated for a Grammy Mostly improvised solo guitar music. Recorded at 24/96k in my studio in Santa Fe. No compression. Most of these tracks were at one time available under the title Tears in the Rain.



Get the entire album in MP3 format
(128/192/320 Kbps quality)

This version of the album includes MP3 versions of the songs in various bitrates (128/192/320) and also 24-bit High Definition FLAC files. HD/FLAC files are only available when purchasing the entire album like this.

Note: Not all MP3 playing devices or software can play FLAC formatted music, but this offers a quality that far surpasses that of MP3 and even 16-bit 44Khz CD.


Page generated in 0.02 seconds.