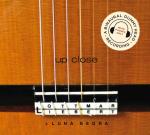 Up Close MP3 Files
>> Printable Artwork / Liner Notes
A binaural dummy head recording, sometimes also called holophonics. The listener has to use headphones to experience the 3D surround-sound quality of the music since the recording uses the head-related transfer function. Recorded live-to-stereo in August of 2007. No edits were made and the volume was not compressed. This album is not as loud as most music and you might have to turn up the volume on your computer or mp3 player. You will NOT experience the binaural surround effect when you listen to one of the previews below as the previews are in mono.
Also check out this article on culturecourt.com



Get the entire album in MP3 format
(128/192/320 Kbps quality)

This version of the album includes MP3 versions of the songs in various bitrates (128/192/320) and also 24-bit High Definition FLAC files. HD/FLAC files are only available when purchasing the entire album like this.

Note: Not all MP3 playing devices or software can play FLAC formatted music, but this offers a quality that far surpasses that of MP3 and even 16-bit 44Khz CD.


Page generated in 0.02 seconds.