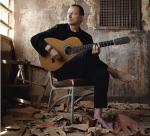 The Scent of Light MP3 Files
>> Printable Artwork / Liner Notes
Each of these ten instrumentals draws a picture, and each picture tells a story. It's music as a smell that triggers unexpected memories. India, 1978... Granada, 1992... each track has a strong atmosphere of time and place, like the journal of an itinerant poet or painter. Tracks range from over 5 minutes to almost 12 minutes. Each piece shifts and evolves, sometimes going through several tempo and rhythm changes, "The River" features Tangos, Rumba and 6/8 rhythms, sometimes building from a haunting solo-guitar performance to the full drive of the band, as in "Silence: No More Longing".



Get the entire album in MP3 format
(128/192/320 Kbps quality)

This version of the album includes MP3 versions of the songs in various bitrates (128/192/320) and also 24-bit High Definition FLAC files. HD/FLAC files are only available when purchasing the entire album like this.

Note: Not all MP3 playing devices or software can play FLAC formatted music, but this offers a quality that far surpasses that of MP3 and even 16-bit 44Khz CD.


Page generated in 0.02 seconds.