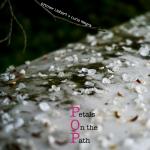 Petals On the Path MP3 Files
>> Printable Artwork / Liner Notes
After touring Japan last fall with the new Luna Negra trio, everyone realized this was a special group of musicians.  "Instead of crafting the songs in the studio, one track at time, we decided to record the group playing together as we would on stage, says Liebert."  With Jon Gagan on bass and Michael Chavez on drums, the trio set out to record the album in four sessions with very few overdubs.  "I wanted to capture an old-fashioned organic drum sound and to keep a well-defined space by mixing the bass to one side, the drums to the other, and the guitar up the middle... a production nod to the 60's that created a big canvas with an intimate feel to it."



Get the entire album in MP3 format
(128/192/320 Kbps quality)

This version of the album includes MP3 versions of the songs in various bitrates (128/192/320) and also 24-bit High Definition FLAC files. HD/FLAC files are only available when purchasing the entire album like this.

Note: Not all MP3 playing devices or software can play FLAC formatted music, but this offers a quality that far surpasses that of MP3 and even 16-bit 44Khz CD.


Page generated in 0.01 seconds.