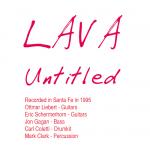 Lava MP3 Files

Sante Fe, New Mex. 1995. Eric Schermerhorn flies into town, packin' heat, fresh from gigs with Iggy Pop and Bowie. His assignment? To lay some smooth electric lines on some post-modern flamenco instrumentals then in production by Ottmar Liebert at his Spiral Subwave studio. The album would be Opium, a double CD set. You can hear ES solo on the coda of the oft anthologized cut Butterfly + Juniper.
But... was there another album, never released, a mystery album of rock & flamenco fusion?
You can continue reading here (external web site).



Get the entire album in MP3 format
(128/192/320 Kbps quality)

This version of the album includes MP3 versions of the songs in various bitrates (128/192/320) and also 24-bit High Definition FLAC files. HD/FLAC files are only available when purchasing the entire album like this.

Note: Not all MP3 playing devices or software can play FLAC formatted music, but this offers a quality that far surpasses that of MP3 and even 16-bit 44Khz CD.


Page generated in 0.01 seconds.