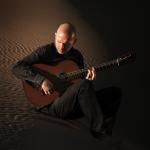 Dune MP3 Files

DUNE contains the haunting southwest border-country Flamenco that Ottmar Liebert and his band Luna Negra are famous for. This isn't your old school Flamenco. Acoustic guitars mix with electric, gypsy accordion, electric bass, funky drum-boxing and percussion. There's no rain in this music, just poetic sunshine at midnight.
"I wanted to play guitar melodies that sounded sung", says Ottmar. "For some reason I kept thinking about old jazz and pop crooners. So I sang almost every melody first and then figured out how to play it on guitar.



Get the entire album in MP3 format
(128/192/320 Kbps quality)

This version of the album includes MP3 versions of the songs in various bitrates (128/192/320) and also 24-bit High Definition FLAC files. HD/FLAC files are only available when purchasing the entire album like this.

Note: Not all MP3 playing devices or software can play FLAC formatted music, but this offers a quality that far surpasses that of MP3 and even 16-bit 44Khz CD.


Page generated in 0.01 seconds.