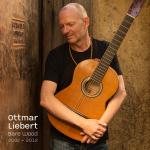 Bare Wood 2002-2012 MP3 Files
>> Printable Artwork / Liner Notes
Bare Wood is a compilation of pieces I created between 2002 and 2012. For this album I deleted all electric or electronic instruments from the original recordings and removed anything that was not Flamenco guitar or cajon. I recorded additional Flamenco guitar parts and Jon recorded entirely new upright acoustic bass tracks for every piece. What emerged was the essence, the soul, the bare wood of the music.



Get the entire album in MP3 format
(128/192/320 Kbps quality)

This version of the album includes MP3 versions of the songs in various bitrates (128/192/320) and also 24-bit High Definition FLAC files. HD/FLAC files are only available when purchasing the entire album like this.

Note: Not all MP3 playing devices or software can play FLAC formatted music, but this offers a quality that far surpasses that of MP3 and even 16-bit 44Khz CD.


Page generated in 0.01 seconds.